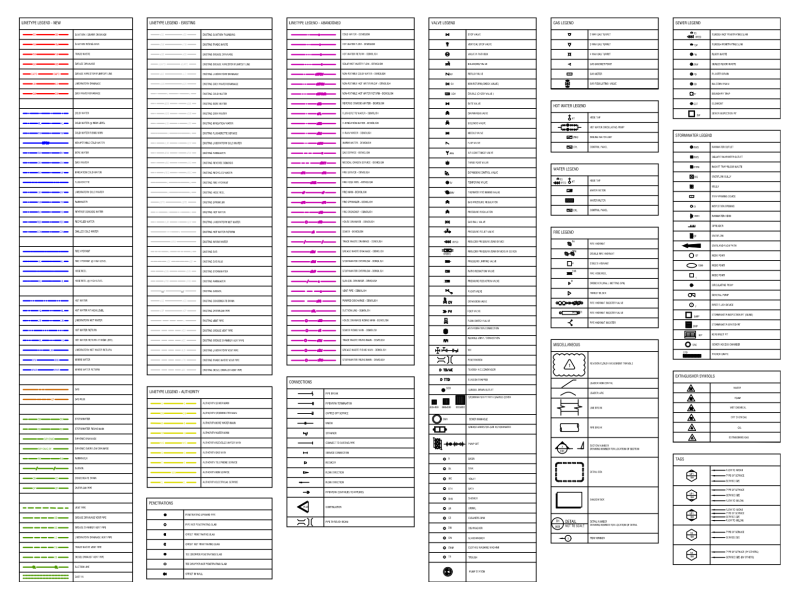 Version

4552

Download

693.61 KB

File Size

1

File Count

June 1, 2021

Create Date

June 1, 2021

Last Updated
Download
A free AutoCAD block download for hydraulic, civil and plumbing drafting projects.
What types of linework are included?
SANITARY / SEWER DRAINAGE
SANITARY RISING MAIN
TRADE WASTE
GREASE DRAINAGE
GREASE ARRESTOR PUMPOUT LINE
LABORATORY DRAINAGE
GREY WATER DRAINAGE
COLD WATER
COLD WATER AT HIGH LEVEL
COLD WATER RISING MAIN
NON-POTABLE COLD WATER
BORE WATER
GREY WATER
IRRIGATION COLD WATER
FLUSHERETTE
LABORATORY COLD WATER
RAINWATER
REVERSE OSMOSIS WATER
RECYCLED WATER
CHILLED COLD WATER
FIRE HYDRANT
FIRE HYDRANT AT HIGH LEVEL
HOSE REEL HOSE REEL AT HIGH LEVEL
HOT WATER
HOT WATER AT HIGH LEVEL
LABORATORY HOT WATER
HOT WATER RETURN
HOT WATER RETURN AT HIGH LEVEL
LABORATORY HOT WATER RETURN
WARM WATER
WARM WATER RETURN
GAS
GAS FLUE
STORMWATER
STORMWATER RISING MAIN
SIPHONIC DRAINAGE
SIPHONIC OVERFLOW DRAINAGE
RAINWATER
SUBSOIL CONDENSATE DRAIN
OVERFLOW PIPE
VENT PIPE
GREASE DRAINAGE VENT PIPE
GREASE CHAMBER VENT PIPE
LABORATORY DRAINAGE VENT PIPE
TRADE WASTE VENT PIPE
DIESEL EXHAUST VENT PIPE
SUCTION LINE
CAST-IN
What symbols are included?
2 WAY GAS TURRET
TUNDISH NOT PENETRATING
SLAB STOP VALVE 3 WAY
GAS TURRET
TUNDISH PENETRATING SLAB
VERTICAL STOP VALVE 4 WAY
GAS TURRET FLOOR WASTE VALVE IN PATHBOX
GAS BAYONET
POINT SEALED FLOOR WASTE
BALANCING VALVE
PLANTER DRAIN
REFLUX VALVE
GAS METER
GAS REGULATING VALVE
BALCONY DRAIN
NON RETURN (CHECK VALVE )
BOUNDARY TRAP
DOUBLE (CHECK VALVE )
CLEAROUT GATE VALVE
SEWER INSPECTION PIT
DIAPHRAGM VALVE
HOSE TAP SOLENOID VALVE
HOT WATER CIRCULATING PUMP
NEEDLE VALVE
BOILING WATER UNIT
FLAP VALVE CONTROL PANEL
RAINWATER OUTLET
AIR ADMITTANCE VALVE
SQUARE RAINWATER OUTLET
THREE PORT VALVE
BASKET TRAP FLOOR WASTE
EXPANSION CONTROL
VALVE OVERFLOW GULLY
HOSE TAP
TEMPERING VALVE
GULLY WATER METER
THERMOSTATIC MIXING VALVE
TRAP PRIMING DEVICE
WATER FILTER
GAS PRESSURE REGULATOR
INSPECTION OPENING
CONTROL PANEL PRESSURE REGULATOR
RAINWATER HEAD
GAS BALL VALVE
SPREADER PRESSURE RELIEF VALVE
OVERFLOW REDUCED PRESSURE ZONE DEVICE
FIRE HYDRANT
OVERLAND FLOW PATH
REDUCED PRESSURE ZONE DEVICES IN SS BOX
DOUBLE FIRE HYDRANT
NODE POINT PRESSURE LIMITING VALVE
STREET HYDRANT NODE POINT
RATIO REDUCTION VALVE
FIRE HOSE REEL
NODE POINT PRESSURE REDUCTION VALVE
DRENCHER (WALL WETTING SPK)
CIRCULATING PUMP FLOAT VALVE
THRUST BLOCK
GENERAL PUMP EXPANSION VALVE
FIRE HYDRANT BOOSTER VALVE
FIRST FLUSH DEVICE
FOOT VALVE FIRE HYDRANT BOOSTER
VALVE STORMWATER INSPECTION PIT (BLIND)
FLOW SWITCH VALVE
FIRE HYDRANT BOOSTER
STORMWATER GRATED PIT
ANTI-VIBRATION CONNECTION
KERB INLET PIT
FLEXIBLE JOINT / CONNECTION
SEWER ACCESS CHAMBER
TEE TRENCH
GRATE
PENETRATION
TUNDISH
A/C CONDENSOR
TUNDISH TRAPPED
SUBSOIL DRAIN OUTLET
STORMWATER PIT WITH GRATED COVER
SEWER MANHOLE
GREASE ARRESTOR-SIZE AS NOMINATED
PUMP SET
BASIN SINK
TOILET
BATH
SHOWER
URINAL
CLEANERS SINK
DISHWASHER
GLASSWASHER
CLOTHES WASHING MACHINE
TROUGH PUMP STATION
| File | Action |
| --- | --- |
| Hydraulic Legend and Linework.dwg | Download |